Atebits recently released their new version of Tweetie for the iPhone. For me, it's the best Twitter client that's ever been made for the iPhone. You can read this in depth review of Tweetie to get a better idea of everything Tweetie 2 has to offer. The feature I want to highlight is Tweetie 2's ability to support 3rd party URL Shorteners.
We developed our own URL shortener called kl.am, but since it's not called bit.ly or Digg, we've had a difficult time getting 3rd party Twitter clients to support it natively. Tweetie lifted that barrier by building in support for custom URL Shorteners that follow certain API standards. This is not only brilliant, it also makes us love Atebits even more!
Instructions for Setting Up kl.am in Tweetie 2
On your main Accounts page, click on the Settings button on the bottom-left of the screen.
Click on URL Shortening.
Click on Custom…
Enter: http://kl.am/api/shorten/?format=text&url=%@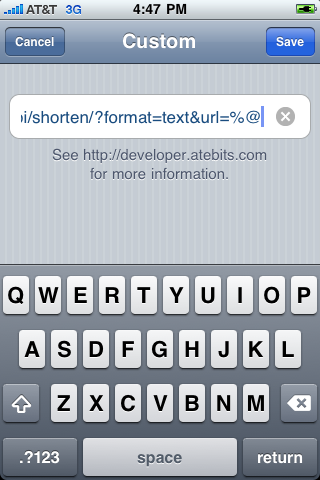 If you have a kl.am account and want to use your API key, enter this instead (where 123456 should be replaced with your API key:
http://kl.am/api/shorten/?api_key=123456&format=text&url=%@